Plant a Tree for the Jubilee
The Queen's Green Canopy (QGC) is a unique tree planting initiative created to mark Her Majesty's Platinum Jubilee. This nationwide programme encourages people from across the United Kingdom to Plant a Tree for the Jubilee.
The national tree initiative will see trees being planted by individuals, community groups, schools, businesses and councils to create a network of trees that will help support the environment and fight the climate crisis. There will be specimen trees, avenues, copses and woodlands being planted to commemorate The Queen's 70 years of service to the nation. Existing woodland will also be dedicated to Her Majesty so that forests will be preserved for the future.
Everyone can take part by planting trees from now through to the end of the Jubilee year. Read the English Woodlands' blog about Planting a Tree for the Jubilee HERE.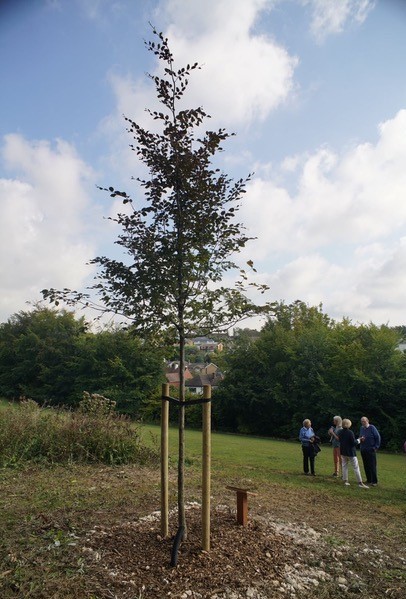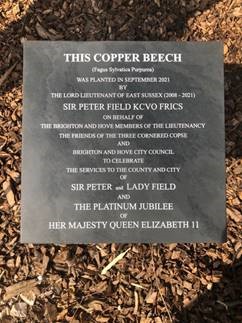 The elegant copper beech tree (left) was supplied by English Woodlands and planted in September 2021 by the Lord Lieutenant of
East Sussex, Sir Peter Field, KCVO, FRICS. The tree was planted on behalf of The Brighton and Hove Members of the Lieutenancy;
the Friends of the Three Cornered Copse; and Brighton and Hove City Council. It celebrates the Services to the Country and City
of Sir Peter and Lady Field and the Platinum Jubilee of Her Majesty, Queen Elizabeth II.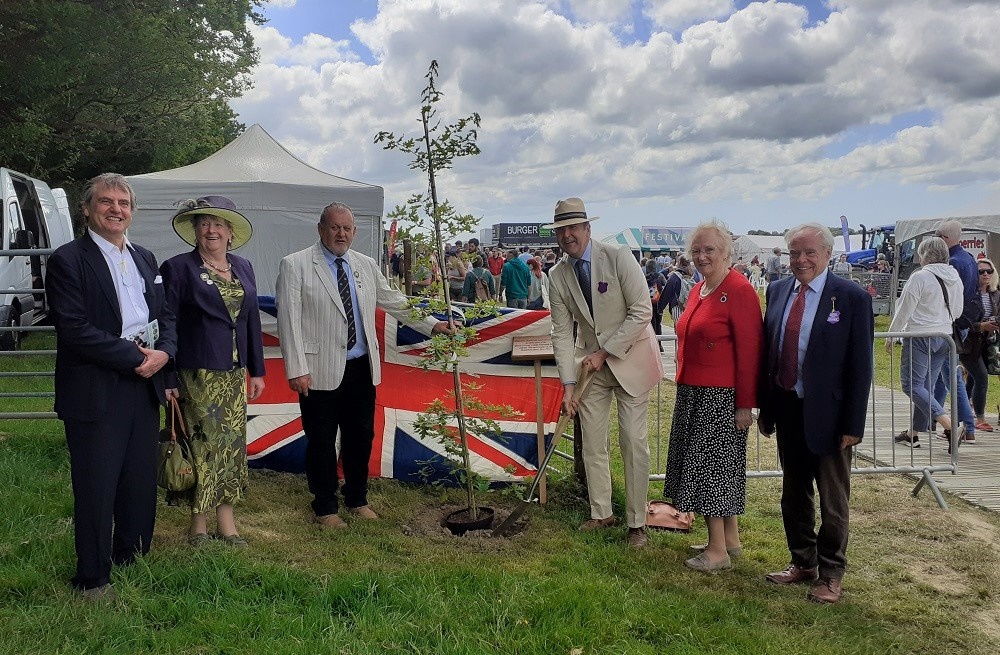 The Queen's Platinum Jubilee was celebrated in style at the 2022 Heathfield Show in East Sussex, with a traditional oak tree planted on the show ground to mark the launch of the Queen's Green Canopy initiative. The tree was sponsored by the Woodland Trust and supplied by English Woodlands. The Heathfield Show was proud to welcome Sara Stonor, DL, Vice Lord Lieutenant and President of the Heathfield Agricultural Show; David Allam, DL, the QGC Liaison Officer for East Sussex; Cllr. Mike Robinson, Chairman of Heathfield & Waldron Parish Council; Patrick Coffey, Deputy Chairman; Rita Dingwall, Chairman of Heathfield Agricultural Show and Bill Gower, Vice Chairman, along with other local representatives.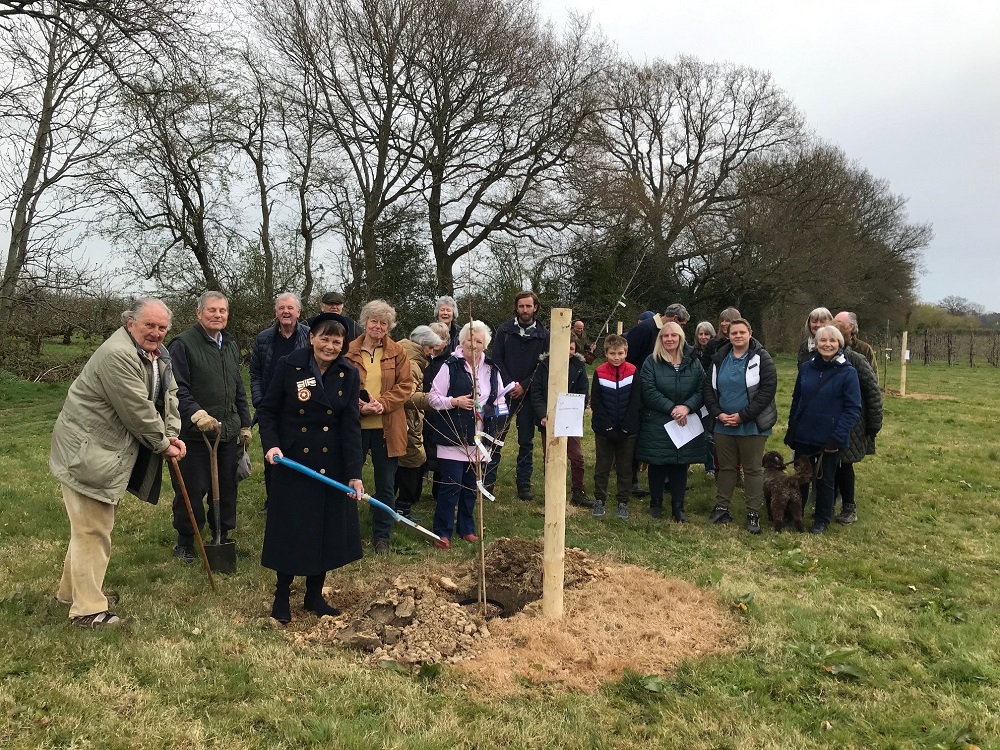 The community of Matfield and Brenchley worked together to plant six native trees supplied by English Woodlands (pictured above). The trees were planted at Maynards Farm, early in 2022. They now stand along a well-used ancient walkway which links the two villages and the planting celebrates the Queen's Platinum Jubilee, forming part of the Queen's Green Canopy incentive. The Deputy Lieutenant Georgie Warner was present to represent the Queen and to say a few words. Each tree was sponsored, whilst labour, stakes and maintenance were provided voluntarily.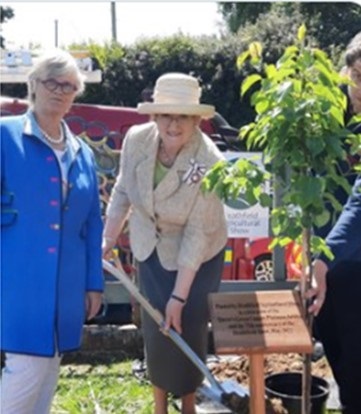 The above Pyrus calleryana, Callery pear tree, has been planted outside Heathfield Fire Station in East Sussex to celebrate both the Platinum Jubilee and the launch of Heathfield Show 2022.
English Woodlands is delighted to support the QGC project. We supply top quality trees from our Plant Healthy certified nursery. We are able to deliver most trees across the country and can also provide a planting service to certain postcodes in the South East. We have a team of experts who can advise you on selecting the right tree for the right location.
It is vital to follow the excellent advice provided on the QGC website to: PLAN, PLANT and PROTECT any tree planting that takes places as a result of this worthwhile initiative. Trees need our help to survive, especially during the first few years. You will want your tree to live to maturity - this could be for several hundred years, depending on the species. English Woodlands has therefore created a seven-point Golden Rule guide to help ensure that your Queen's Green Canopy trees will thrive. Like you, we want them to continue to enhance the environment that you have chosen for them.
Seven Golden Rules for Tree Planting
Aim to maximise biodiversity. Some tree species are better than others at supporting the environment. Scroll down the page for more details.

Select the appropriate tree species for the location, taking into consideration soil type, drainage, exposure and more. You must ensure the conditions are right. English Woodlands can advise you.

Choose the very best planting site within the chosen location, giving thought to the micro-climate and the space your tree will need in order to grow. Follow the Best Practice guidelines provided on the QGC website here.

Plant your tree well so that it thrives and lives to maturity. Avoid common mistakes, including planting too deeply. You can follow our guide here. There are also some useful videos we have prepared for you.

Include protection for your tree. English Woodlands stocks a wide range of planting sundries including tree guards, stakes, tree ties and mulch mats. View them here.

Provide regular maintenance and aftercare, particularly during the next three years. This includes watering, weeding, checking for damage and loosening the ties.

Monitor the tree thereafter. It might need some gentle pruning to prevent twigs from rubbing together. You will also want to remove the stake after just a few years.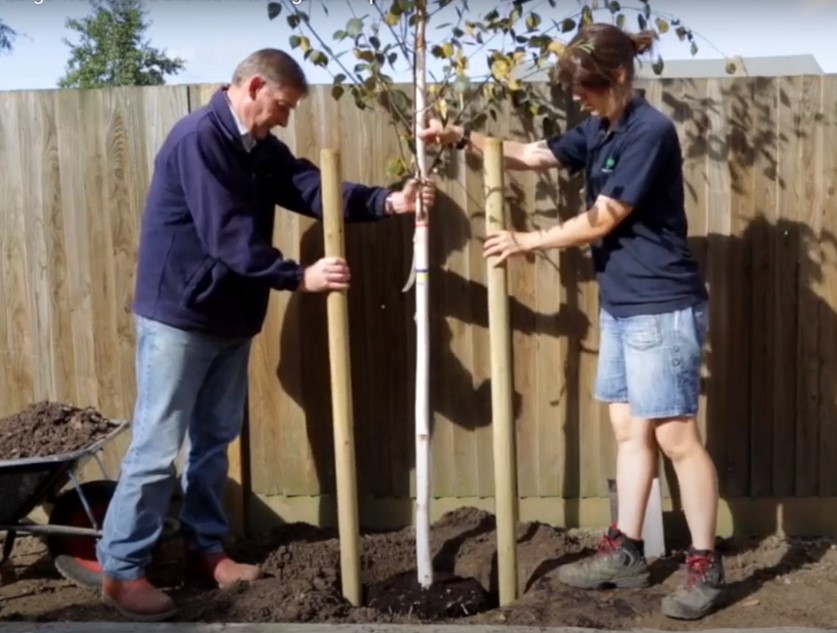 You might want to consider installing a commemorative plaque as a lasting tribute to the tree you are planting as part of the Queen's Green Canopy initiative. Please note that permission from local authorities might be required if you are considering installing a physical commemorative plaque within a public place. The QGC offers both physical and virtual plaque options. Everyone who decides to Plant a Tree for the Jubilee is urged to upload their tree details to the interactive QGC Map so that they can become part of the digital legacy.
English Woodlands offers a bespoke service and can both pick and pack trees for communities, councils and landscape projects. Please email: info@ewburrownursery.co.uk for requests and enquiries about this service.
Eco and biodiversity credentials of trees
Which trees are best? Any tree is a potential champion, but some offer more than others when it comes to environmental benefits such as carbon storage. Trees take carbondioxide from the air and they lock it up by absorbing it into their structure. In addition, they support hundreds of species including small mammals, insects, birds and invertebrates; absorb water and help prevent flooding; stabilise the soil; filter the wind and they also provide shade to cool the surrounding area.
The following list details the carbon storage aspect of just a few popular trees:
| | | | |
| --- | --- | --- | --- |
| Common name of tree | Life expectancy (rural location) | Potential Carbon storage (at maturity) | Carbon credit score (A-E) |
| Alder | 100 | 2762kg | B |
| Apple tree | 100 | 505kg | C |
| Beech | 300 | 7500kg | A |
| Cherry (ornamental) | 75 | 685kg | C |
| Eucalyptus | 250 | 7570kg | A |
| Hawthorn | 150 | 509kg | C |
| Hazel | 100 | 2700kg | B |
| Holly | 300 | 1836kg | C |
| Larch | 750 | 5097kg | A |
| London Plane | 350 | 7423kg | A |
| Oak | 300 | 7500kg | A |
| Tulip Tree | 300 | 2377kg | B |
Ready to choose a tree?
You can browse the current range of tree species available here. Click the photos for more information.
You are welcome to come and visit us in Cross-in-Hand, near Heathfield, East Sussex. We have an expert team of staff who will be delighted to show you around the nursery and talk you through the various possibilities. There is some useful Visitor information to help you find English Woodlands.
If you need advice please call 01435 862992 or email: sales@ewburrownursery.co.uk
For further information please go to The Queen's Green Canopy website