Colour is not just for flowers! Annuals and herbaceous plants take centre stage in summer, but trees and shrubs can provide a beautiful palette of colour for structural planting. Think gold, silver, bronze (well burgundy!) for a winning alternative to green foliage. We love green but a well placed highlight of a different foliage colour can add a dramatic focal point or a complimentary backdrop to other planting.
Examples of trees with golden or yellow foliage include Catalpa bignonoides Aurea (above) and Acer Princeton Gold pictured below. Catalpa Aurea is a medium size tree ultimately but can also be kept pruned in a mixed border to provide beautiful large soft yellow leaves as a complimentary or contrasting colour. Acer Princeton Gold can also be paired with Acer Royal Red - both are hardy varieties of Norway Maple and can be stunning focal points in the landscape.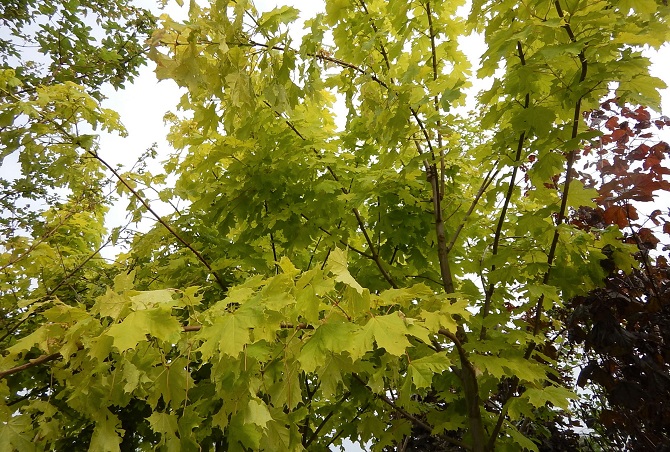 Cercis come in a variety of foliage colours including the lovely green Cercis Avondale. Cercis Forest Pansy is a beautiful burgundy foliage shrub or small tree which has stunning autumn colour too - it associates well with a dark green foliage backdrop, as here with a Portugal laurel.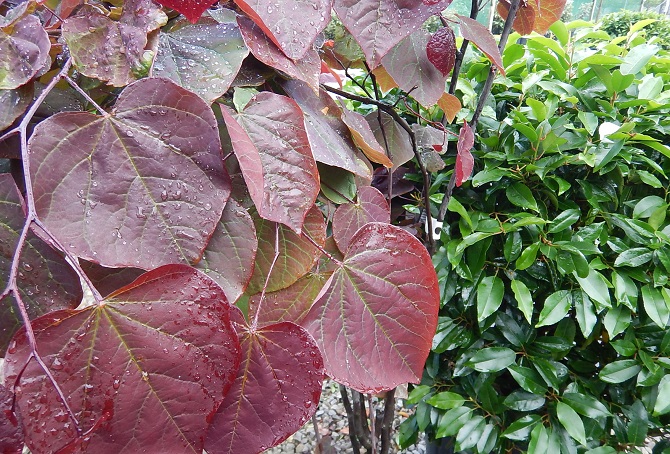 Cercis Heart of Gold is bright gold in spring and autumn and a greeny gold in summer - a lovely highlight plant.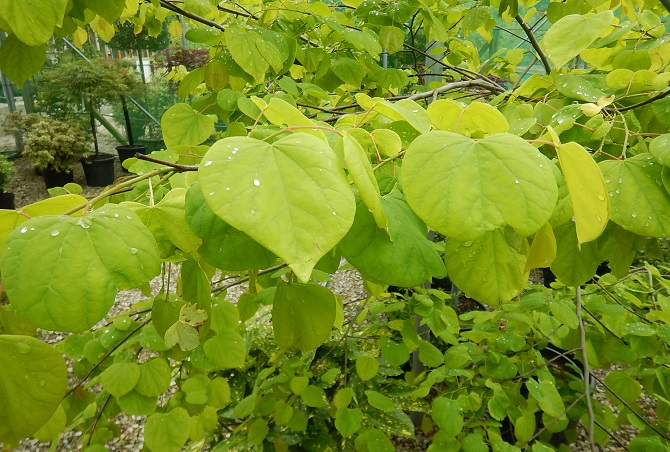 We love how Pittosporum Tom Thumb has deep burgundy foliage but the new growth is green at first darkening with age - a small shrub for a border or a tub.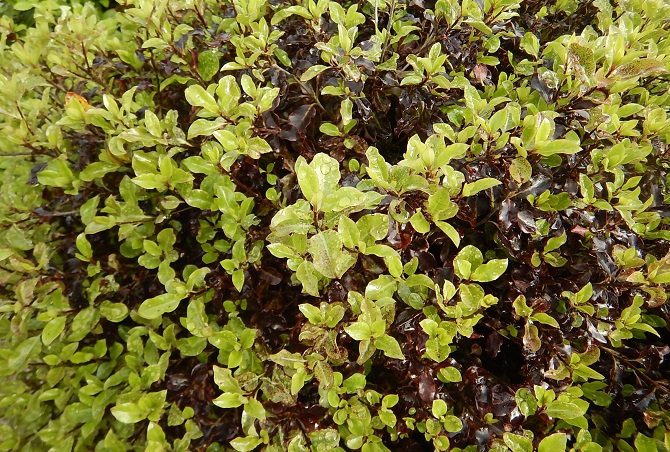 For examples of trees with silver grey foliage - Sorbus aria - whitebeam is a beautiful tree which does well in chalky soils and windy sites, it has white flowers in late spring and red berries in autumn. Pyrus salicifolia pendula the silver weeping ornamental pear is another example - another tree which copes in a windy site and also in heavier soils. We have sold out of both these trees now but will have more stock in the autumn - a better time for tree planting too!
We hope you have a great summer, it may not always be perfect weather but that rain makes for a colourful garden!